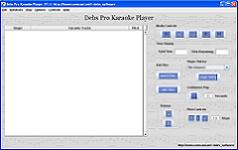 Product Features:

Easy to use.
Play Zipped Mp3/CD+G Karaoke Files.
Play Media & Video Files: mp3, wav, wma, mpg, mpeg, avi.
Built in Database and Search Features.
No need to specify any file format when building a database.
Drag N Drop capabilities.
Queue media tracks into the Play List.
Column for the Singer's name, and pitch.
Saves Singer History.
Play, Pause, and Stop buttons to control playing the selected track.
Repeat and Shuffle options.
Key Changer with auto features for setting and resetting the pitch for tracks in the Play List.
Track time display.
Continuous Play controls to pause in between playing tracks.
Option to automatically remove tracks from the Play List.
Next Singer and Singers On Deck Splash Screens.
Options for customizing the captions and colors on the Splash Screens.
Saves the current Play List.
Loads a previously saved Play List.
Backup Play List saved for System Recovery.
Option to mark files that are corrupt or bad.
Automatically manages errors associated with the Zipped Karaoke Files.
Automatically compacts the database.
In order to use Debs Pro Karaoke Player, you must first have Winamp and a MP3+G Plug-in installed on your computer. You can download a free version of Winamp from

Winamp
You can download the MP3+G Plug-in for Winamp from

Phy Systeme MP3+G Plugin
One of the features of Debs Pro Karaoke Player is a Key Changer. To use this functionality, you can download the Pacemaker Plug-in
Great news!!

Debs Pro Karaoke Player 2 is being released July 30, 2017.