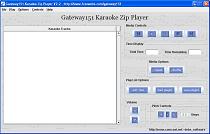 Product Features:

Easy to use.
Play Zipped Mp3/CD+G Karaoke Files
Play Mp3 Files.
Drag N Drop capabilities.
Queue media tracks into the Play List.
Play, Pause, and Stop buttons to control playing the selected track.
Repeat and Shuffle options.
Key Changer.
Track time display.
Save the current Play List.
Load a previously saved Play List.
In order to use Debs Pro Karaoke Player, you must first have Winamp and a MP3+G Plug-in installed on your computer. You can download a free version of the latest Winamp from
http://www.winamp.com
You can download the MP3+G Plug-in for Winamp from
http://www.physysteme.com
One of the features of the Gateway151 Karaoke Zip Player is a Key Changer. To use this functionality, you will need the latest version of the Pacemaker Plug-in which can be downloaded from http://www.surina.net/pacemaker