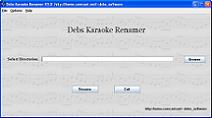 Product Features:

Easy to use.
Simple interface.
Renames Karaoke zip files, directories and labels.
Formats song numbers.
Removes double spaces.
Replaces underscores with spaces.
Formats with capitals and lower case for Artist and Titles.
Formats the w-vocal notation.
Option to include subdirectories.
Additional options for renaming directories and labels.
Display window to show the list of files being renamed.
To use the Renamer, simply select the folder that contains the files you'd like to rename, select any additional options from the preferences menu, and click the Rename button.
Example:

Old File Name: sc8202_04_-_ides_of_march,_the_-_vehicle.zip

Renamed To: SC8202-04 - Ides Of March, The - Vehicle.zip




Download the latest FREE version, updated on November 17, 2007.
This is a free tool distributed on as is basis.