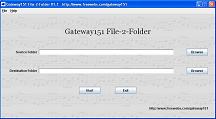 Product Features:

Easy to use.
Simple interface.
Groups Karaoke Zip Files by song number, or artist.
Additional options for grouping files.
To use the File-2-Folder, simply select the source folder that contains the files you'd like to organize, select the destination folder you'd like the organized files to be copied to, select any additional options from the menu, and click the Start button.
Example:

You have a folder called Downloads. In this folder you have three files described below. Open the File-2-Folder program. Select the Downloads folder as your source directory, and the Downloads folder again as your destination directory. Click Start.

This tool will create a new folder called SC8202 in the destination directory and copy three Karaoke Zip Files into it. In this example our destination was the Downloads folder. The new folder SC8202 was created to group the files beginning with SC8202.

File: SC8202-02 - Rip Cords - Hey Little Cobra.zip
File: SC8202-03 - Hondells - Little Honda.zip
File: SC8202-04 - Ides Of March, The - Vehicle.zip




Download the latest FREE version, updated on May 13, 2007.